Hut two's roof
Hut 2 proved a bit more difficult as we had to incorporate a new balcony as well as changing the pitch of the roof. The balcony is not at the same pitch as the rest of the roof so wouldn't be watertight so we have laid plastic in between the layers of grass to hopefully stop any leaks. We are joining in another roof to the side for a corridor so if it's raining, when you are walking between the buildings you won't get wet!  We've seen it done on other roofs in the area but designing it ourselves is a little daunting. It's bad enough having a join in a normal roof; imagine trying to keep the joins water tight when they're made of reed?!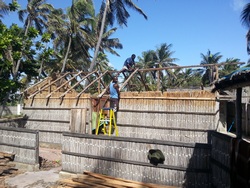 The inside of the hut was in a really bad way and needed a lot of work. Instead of demolishing it we have been trying to come up with ways to 'modify' what we already have. We have decided to try and render over the existing grass walls (inside and out) as that will keep in line with our planning permission to keep the original building. The plan is to clad the whole building in chicken wire, render over that and paint the walls hopefully giving us the clean finish we are looking for.
The floors have just been re-laid with concrete and the windows, door and frames have been ordered from local carpenters.  It's looking great so fingers crossed it works!
Rendering hut 2
Hut 2 is coming on really well. The chicken wire / rendering idea seems to be working!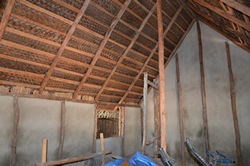 We have now finished the majority of the walls inside and so far, so good. We have decided to put a red brick skirting around the base of the hut so that the original wooden beams can be incorporated into the wall and therefore left on show.
It's amazing how much lighter it makes the room so we cannot wait until it's painted so see the finished look. The new roof also seems to have worked as we had a huge storm last night and our huts stayed dry. At 3am we were walking around with torches to see if it was leaking anywhere! The builders have begun to plait the ends of the roof and we have decided to put a long planter in front of the hut instead of just a wall. If our nursery plants grow that is…
Plans seem to change daily, if not hourly, so it's all go on site at the moment.
Inhambane
I think we have finally worked out the way around Inhambane, our nearest main town – although if you asked me how to get from the pharmacy to the bank it may take a while – but on the bright side, at least there is a pharmacy!
There is a Chinese supermarket and a 'One stop' and between the two you can get a good variety of dried and tinned goods. The dried products are expensive in comparison to London and for some reason tinned mushrooms are extortionate! £4 for a small tin?! We still don't understand why either!
Dairy products are expensive and we realised quite quickly that no amount of ice in our cooler box would stop our milk going off. Our cooler box fridge was using more solar power than we could produce so we've changed that onto gas. We still don't eat much dairy or meat as the fridge is tiny so unless we buy it to eat on the day it's hard to keep.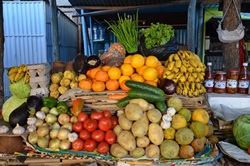 The Market in Tofo is generally way over priced but there is a South African nursery on the way to Inhambane that sells excellent fruit and vegetables at a much better price. They have started a fish farm on site where they are producing fresh water fish and Cray fish and their shop has quite a few products that are hard to get hold of elsewhere.  We get our Broccoli, cauliflower and mushrooms from a South African company that delivers to Tofo so all in all we have found most things.  With the supermarkets, It does depend on the day though and some days you specifically go to buy something and the shelves are empty.
It does make you pine for the big clean supermarkets at home where you can buy everything in one place. Our shopping trips tend to take all day now with various stops at different stalls and shops.
The two things we have still not found here are fish sauce or gravy granules. They have a gravy powder but it tastes very odd – not that we have an oven to make a roast dinner anyway!
As our kitchen is outside we have learnt one lesson:  Always check your tea before drinking it! The amount of times we have swallowed a moth or an unidentified creature is becoming a bit of a joke. It generally results in one person choking and gagging while the other one is in fits of laughter. It is hilarious but not so much when it's you!
Puppy food uses up a lot of our budget as Fenton is massive and now weighs in at approx 37 kg! The dog eats so much it's ridiculous but the vet is still adamant that we cannot change him onto adult food yet (which just happens to be half the price) At least he is on dried dog food because I would hate to know the price of canned food. He's actually lucky to be alive after he knocked our main hard drive – the one with all the movies and series on – on to the floor and broke it. For us living here with no main power or a TV, that is a big deal.
Building is going well and I will write an update shortly J
---