The Container
Who knew getting a container from London to Tofo could be so hard?
Firstly it took about 4 months to find a company that could actually do it – there are hundreds of companies that can ship the container to the port in Maputo, or use their own container but finding a company that would ship our container, get it through customs and transport it to our land was hard work. We needed our own container as we had nowhere to store anything when it arrived on our land. We had various representatives coming to the house to discuss the shipping but when it came down to it, not one of them could do the whole service. In the end we joined an expat blog page in Mozambique and found a company in the UK through a lady that had just happened to have done the same thing.
By the time this was organised and the container was ordered we were told we had to have our fully packed container at the port by the 12th December; otherwise it wouldn't sail until after Christmas. This was on the 5th December!?! The container delivery was late and didn't arrive until the 8th so we had to pack the whole thing in 4 days. Imagine the panic – not easy when we still need everything that we had to pack! Anything that was left would either be coming on the plane with us or would be left behind.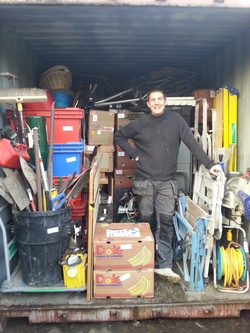 So for three freezing cold nights we packed the container which, due to parking restrictions, was parked half a mile away. The company arrived to load the container and just when we thought we had succeeded the driver realised they had sent the wrong lorry and our container was too heavy for them to lift. After about 100 frantic phone calls to the port (the ship was sailing that night) and begging the driver to give it "just one more go" the container suddenly lifted and it was on its way. We can now apologise for holding up the London traffic with our lorry for about 2 hours in rush hour…
It was hard trying to predict the things we would need in the future and guess what we would not be able to get in Mozambique. In the end we ran out of time so everything got thrown in – this explains why we have ski suits in Africa!
One of the most exciting experiences was seeing our container coming over the horizon through our sandy little town. It was being trailered in by a tractor but after 6 weeks of being stuck in customs, it was finally here.
Obviously the tractor got stuck in the sand, the gate got knocked down as it was too narrow and the crane lifting the container off broke down for two days, but this is Africa and this is the way things happen here. It doesn't happen when or how it's meant to but in the end it seems to work out.
New Roof
Building has flown ahead with new roofs on all our existing buildings. We have had to keep all our existing buildings and stick to the original footprints, which hasn't been ideal but apparently these building used to be a church and have been here for over 10 years, so we have to keep them! As every single roof was at the wrong pitch (and therefore leaking) we have had to change all of them.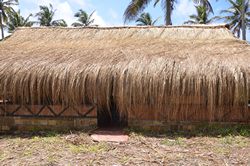 Its amazing how the locals construct the roofs but before anything begins you have to go and get the materials…
Somehow we found ourselves in the middle of nowhere in about 40 degree heat trying to find the correct grass we need . There are two types which are used, Macuti and Kapin and we need both. Due to the soft sand in the bush we had borrowed a truck which came with the driver. It was torrential rain, the windscreen wipers didn't work and the man was driving down the road with his head stuck out of the window. He was drinking cans of coke and when they were finished he just threw them out of the truck – not quite what we expected! As quickly as the rain started, it stopped and the temperature increased to a ridiculous level – Everything, including us was steaming.
We ended up in a village about 20 minutes into the bush with about 1000 flies around us, stood in what can only be described as heaven for bush snakes. People of all ages started appearing from nowhere and we're honestly not sure if some of the younger children had ever seen a white person before because they were terrified and screamed the whole time we were there!
Unbelievably, even without power, the village had managed to rig up nightclub sized speakers which were blaring out trance music at an outrageous level which resulted in everyone screaming at each other to be heard. After two hours of negotiating, our man finally agreed a price. It turns out the argument was over about 30 pence per bundle. It wouldn't be that bad but they only had 17 bundles and we needed 150 that day.
So onto the next village.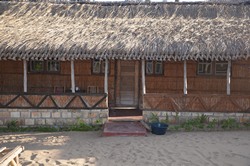 Here we manage to do the deal in about half an hour. We had to pick it up from the next village and as we arrive there we see a truck leaving taking all 133 bundles we have just agreed to buy. This also results in a full scale row in the local African language, Bitonga, and we have no idea what is being said. There is a lot of pointing and shouting at us and we just stand there smiling like idiots!
Suddenly people start appearing from nowhere carrying bundles of grass on their heads. Women who are breastfeeding are feeding the baby and carrying the grass, tiny children are pulling bundles from the bush and doors of huts start opening and bundles start being launched out. After another 2 hours we had all 150 bundles but the whole process had taken about seven hours.
This went on for 6 days…
We laugh now but standing in the sweltering heat, trying not to swat away flies was by no means an enjoyable experience!
So the roofs are all on now, our huts are water tight and most importantly, they look fantastic.
Planting
Due to the fact we currently have no power we have decided to start growing our own vegetables. Now this will be an epic challenge as the only plant we have had was a basil plant from Tesco that died after a week. Currently we have a small cool box size gas fridge but it's not enough to store fruit and vegetables and in this heat they don't last.
So the planting has begun!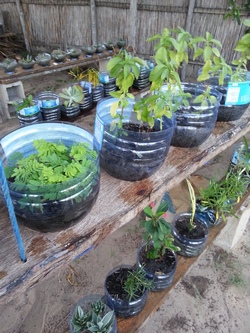 So far we have banana plants, papayas, tomatoes, beetroot, orange, basil and rosemary. We have constructed a small nursery and on the advice of locals here, have steamed (yes steamed!) our soil first to get rid of any parasitic worms that tend to live in the sand here. As all our land is sand we have been digging up the black soil in the nearby lagoon and mixing it with sand and horse manure from the local stable. For pots we are using our old 5L water bottles that Dan has cut in half and drilled holes in. A little bit different from going to the local garden centre…
Dan has built hanging shelves as Fenton (the dog) seems to chew most things on his level and we have put a grass roof over the area for some protection from the sun. We are also going to try and grow some plants and cacti so that when we do our gardens we will have the plants we need.
Everything seems to be going well so far but we'll keep you updated!
---